Born in 1757, David Baird, a Scotsman, may not have been the most famous British soldier of his times, but he had a distinguished career, ultimately rising to full general.
Baird was a scrapper. There is a tale that, while a teenaged student at a private military academy, "he was one night acting as sentinel. A companion, older than himself, came and desired leave to pass out, that he might fulfill an engagement in London. Baird steadily refused. 'No,' said he, 'that I cannot do; but, if you please, you may knock me down, and walk out over my body'."
Upon leaving this academy in 1772, 15-year-old Baird secured a commission through purchase, as was the custom of the times. He had a varied military career, and saw service on four continents. Baird was in the Second, Third, and Fourth "Mysore" Wars (1780-1784, 1789-1792, 1798-1799) in India, campaigned in Egypt (1801-1802) during the War of the French Revolution, went back to India for the Sindhia Campaign of 1802, took South Africa from the Dutch (1805-1806), tried to capture Argentina (1806-1807), and fought in Denmark (1807). In 1808, he went to Spain and served in Sir John Moore's disastrous "Corunna Campaign." Although he succeeded to command early in 1809 (when Sir John died of wounds), Baird was shortly afterwards so seriously wounded that he lost the use of one arm.
Thereafter Baird, by then a lieutenant general, was consigned to administrative and government posts, at least partially because he did not get along with Arthur Wellesley, later the Duke of Wellington. Certainly Baird's service was honorable and most likely gave him great satisfaction. But it's likely that the moment of Sir David's military career that gave him the most satisfaction came during the final Mysore War.
The Second Mysore War was Baird's first campaign, and it didn't turn out all that well. Almost at its outset, a disastrous defeat resulted in many British soldiers, Baird among them, being captured and imprisoned in the fortress of Seringapatam by Hyder Aly, the Dalwai of Mysore. The prisoners endured horrendous conditions for four years, and many died, for rations were scarce, the wounded were neglected, and disease was rampant. But the end of the war, in 1804, brought liberation and medical treatment for the surviving wounded, among whom was Baird, who had taken a musket ball that had healed poorly, but at least not festered.
Fifteen years later, on May 4, 1799, by which time Baird was a brigadier general, a British Army once again stood before Seringapatam, final bastion of the last Dalwai of Mysore, the famous Tippoo Sultan, son of the late Hyder Aly.
What happened next was told succinctly in Robert Chambers' The Book Of Days
(London: 1869).
Sir David Baird, led one of the storming parties in person, with characteristic gallantry, and was the first man after the forlorn hope to reach the top of the breach. So far, well; but when there, he discovered to his surprise a second ditch within, full of water. For a moment he thought it would be impossible to get over this difficulty. He had fortunately, however, observed some workmen' s scaffolding in coming along, and taking this up hastily, was able by its means to cross the ditch; after which all that remained was simply a little hard fighting. Tippoo came forward with apparent gallantry to resist the assailants, and was afterwards taken from under a heap of slain. It is supposed he made this attempt in desperation, having just ordered the murder of twelve British soldiers, which he might well suppose would give him little chance of quarter, if his enemy were aware of the fact.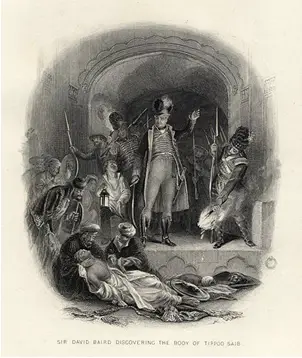 Courtesy Wikipedia
David Baird eventually rose to full general, became a baronet and a Knight Grand Cross of the Order of the Garter. He died in 1829.
On evening during the mid-seventeenth century, King Louis XIV was playing Tric-trac, a game rather like backgammon that was popular in France from the sixteenth through the nineteenth centuries.
At one point in the game, a dispute arose between the King and his opponent as to what had been rolled on the dice.
Asked to express their views, none of those observing the game were able to clear up the matter.
By chance, Philibert, the Count de Grammont (1621-1707) was present, though in another part of the room. Grammont was an army officer of some accomplishment in the field, having campaigned in northern Italy, fought at Freiburg and Nordlingen, and served with distinction in Spain and Flanders,
Louis asked Grammont for his opinion.
Grammont promptly replied that the King was in error.
"But you have not heard the case," said Louis.
"Aye, Sire," replied the count, "but if your majesty had even a shadow of right, would these gentlemen have failed to decide in your favor?"
Grammont was exiled from France soon afterwards, allegedly for pitching woo to a woman who happened to be one of the Royal mistresses.